Kuopio uses a game to get students involved in recycling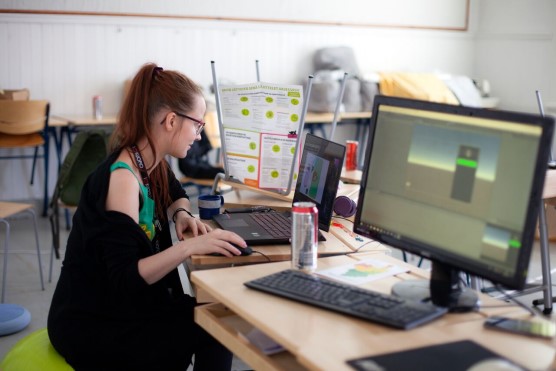 How can we motivate city residents to recycle? Can we make recycling fun, and can we turn it into a competition? How can we reward people for their diligent recycling? Kuopio sought answers to these questions when it experimented with promoting recycling through gamification.
The project was launched at the 3R Game Jam event, where the Ketun kierrätys (Recycling Fox) game was selected as the winning idea. In the pilot, students living in five student residence buildings tested the game for a period of three months. The idea is simple: the students downloaded the mobile game and used it to keep track of their recycling. The 20 most diligent recyclers were rewarded every two weeks, and the winners had the choice between vouchers for cultural and recreational activities or a 10-euro public transport voucher. An impressive 90 per cent of residents downloaded the mobile app, which had around thirty different users each day.
Other participants in the experiment included three City of Kuopio employees who had previously been involved in the Savilahden smarteimmat ratkaisut (smart solutions for Savilahti) and Kiertotalouden ja resurssiviisauden toteuttaminen (Implementing the circular economy and resource wisdom) projects. Both of the projects were granted European Regional Development Fund support by the Regional Council of Pohjois-Savo. Kuopio aimed to lower the threshold for collaboration within the city, and the pilot project was one step towards achieving this goal. In addition to the city and the game developers, the student housing association Kuopio Opiskelija-asunnot Oy, the waste management company Jätekukko Oy and Savonia University of Applied Sciences also participated in the project. The Ministry of the Environment's Sustainable City project provided support for game development, communications and contract matters related to the winning game.
"Implementing the pilot was a learning process in which bold experimenting and adaptability to rapidly changing situations went a long way. Cities have begun to show interest in gamification as an approach, but its effects should be made even more visible," says Project Coordinator Veera Lintula from the City of Kuopio.
The pilot did not monitor changes in the amount of waste generated, but based on a questionnaire carried out afterwards, the participants were more diligent in their recycling than before, and recycling of plastics in particular had increased. Following the successful pilot, Kuopio is now exploring how to move forward. One possibility could be to apply the game to energy conservation or other everyday actions for residents to take.
Private housing cooperatives have also shown interest in the game, which could be very beneficial. A higher recycling rate improves resource efficiency and reduces housing companies' waste management fees, which also brings savings to residents. The potential of games as tools for environmental education and community-building competition are other valuable lessons learned from the pilot.
Contact: Veera Lintula, [email protected]