Accessible sensory path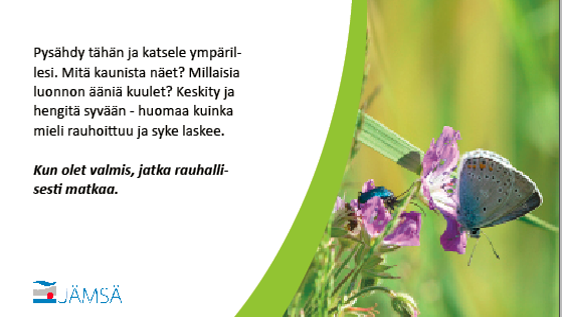 A mindfulness park was designed in Jämsä to address the needs of local residents, tourists and health care as a counterbalance to a hectic lifestyle.
Ideas for the implementation were collected via means such as an idea competition, and from training staff and representatives of councils for the elderly and the disabled.
The construction of the sensory begun in summer 2021.
Results
A plan supporting long-term development that combines art and technology but also utilises the framework already provided by nature.
Sensory sites to be built include a musical instrument park, a rose park, sensory and balance paths and a butterfly garden.
Effects
When the path is ready, it'll have impact on local identity and well-being.
Scaling opportunities for teaching and education, promoting culture, urban navigation and virtual tours.
In collaboration with
City of Jämsä
Vihersuunnittelu Sarastus Oy
Ministry of the Environment