From housing policy to living policy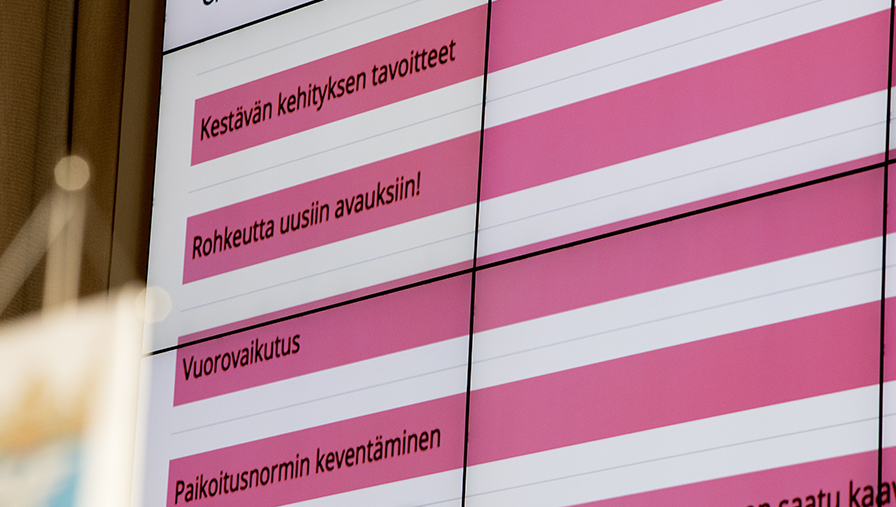 Jyväskylä's objective is to create a socially sustainable housing policy. To promote this, the city held several workshops and carried out interviews with local construction and real estate companies in 2018. The high demand for small apartments poses a challenge for the city, as wide-scale construction of small apartments can lead to a lack of diversity and high turnover of residents.
Promoting social sustainability is not something that real estate and construction companies are typically used to thinking about. Companies generally approach their work from the perspective of business operations during the construction phase, whereas social sustainability is a long-term, complex phenomenon. That said, the topic is of interest to real estate and construction companies, as a socially responsible neighbourhood is seen as an attractive aspect for construction projects.
The interviews revealed that operators in the real estate and construction industries would like cities to implement more efficient housing policy and to lower the costs of housing through measures such as pricing schemes for plots and land use planning, and more streamlined legislation concerning land use plans.
Jyväskylä loosened its regulations on parking places last autumn and is currently promoting infill development of the city centre by reducing land utilisation fees. The city has also experimented with more lenient regulations on land use plans for new residential areas, which gives developers more flexibility in implementing their solutions. Companies also felt that dividing the development of large areas among several operators would lead to a more diverse housing stock.
Action is needed to build socially sustainable cities at the local and national level. One of the most important insights gained from the Jyväskylä pilot project was the idea of shifting from housing policy to living policy. In the discussion on housing ownership models, distributions of different types of buildings and the prevalence of single-room flats, it is easy to forget that housing is about more than units or even what happens within the walls of a building. Comprehensive living policy is connected to the usability and amenities of the spaces surrounding the building and their accessibility using sustainable forms of transport and mobility. A densely built, walkable urban structure creates a sustainable foundation for a city, while a diverse population structure brings a wide range of services and a vibrant atmosphere.
Sparring activities carried out as part of the Sustainable City programme coordinated by the Ministry of the Environment helped city operators in their co-creation and communication with construction sector companies. This kind of sparring would be beneficial in other projects, too. Ultimately, the main lesson of the pilot was that sustainable cities cannot be built alone. Building sustainable cities requires national policy support, actions by cities, exchange of information and participation from the construction sector.